F-Secure Antivirus is modern antivirus products which are automatically updated to protect against the latest viruses and other types of malware. One such name among many is F-Secure Antivirus. In this world of forgery, cyber theft is the most dangerous of all. To save our valuable data and assets, we need to have antivirus protection on our devices. Anti­virus protects our computers from viruses, malware, and any malicious activity. Antivirus products detect, quarantine, or remove malicious code to prevent malware from damaging our devices. 
What Is F-Secure Antivirus Internet Security?
We all are living with the fear of cyber theft. With the protection of F-Secure Internet Security, you can confidently surf the internet, shop online, and bank online using your computer, smartphone, or tablet. F-Secure Internet Security automatically protects you and your devices from malware, hackers, and identity theft. Banking Protection protects your banking transactions. F-Secure SAFE lets you choose what your kids can and can't see.
F-Secure Antivirus Features:
It is the best and safe Antivirus comes with many useful features. A few of them below are:
1. Antivirus
F-Secure Antivirus blocks viruses, trojans, ransomware, and other threats in real time. Your device and personal information are under protection from existing and emerging malware threats.
2. Banking Protection
Automatic security measures protect your online banking and payments. It keeps your online purchases and banking transactions safe. Banking Protection recognizes when a user visits the bank's website or initiates an online payment transaction. It activates automatic security measures to protect your funds.
3. Browsing Protection 
Browse the web without worrying about visiting dangerous websites. F Secure prevents accidental connections to malicious websites. SAFE restricts access to known malware and phishing sites that try to steal your data. Color-coded search results help you avoid dangerous websites before you visit them.
 4. Parental Control
Set healthy boundaries on your child's device. Protect your kids from harmful content and limit screen time. Manage their viewing margin remotely with My F‑Secure.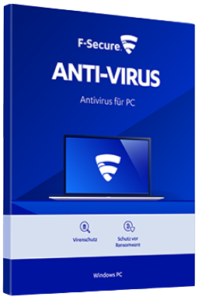 How To install F-Secure Antivirus?
Go to the F-Secure product download page.
Find your product on the page and select Download for Windows.
The downloaded installer file will be in this format (F-SecureNetworkInstaller-IS.exe).
Once the download is complete, navigate to your downloads folder and run the installer file.
When the Installation Setup window opens, select Accept and continue.
When prompted for your subscription code, enter the code and select Next to complete the installation.
How To Download F-Secure Antivirus?
Follow the instruction to download F-Secure Antivirus –
Go to the F-Secure product download page.
Find your product on the page and select Download for Windows.
The downloaded installer file will be in this format (F-SecureNetworkInstaller-IS.exe).
How Can I Buy F‑Secure Antivirus?
F-secure sells three antivirus software packages. The virus scanner for a single device is $35.99, without introductory discounts. The company's mid-range and premium antivirus software packages are also inexpensive.
Pricing is $69.99 for F-Secure SAFE, which covers (3) devices for 12 months, and F Secure TOTAL, which covers (7) devices and includes both VPN and password manager, for $129 per year. F-Secure only sells annual subscriptions.
Another VPN will cost between $34.99 to $119.99/year. It depends on the number of devices covered and the length of your subscription.
The company also offers the following free online security tools –
Identity Theft Checker: Checks if your personal information is part of a data breach and gives you tips on how to deal with it (web monitoring or other identity theft protection).
IP Checker: Checks that no one is monitoring your computer's Internet Protocol address.
Data Discovery Helper: Find out what big tech companies know about you.
Digital Life Test: Internet surfing Measure your safety.
Online Scanner: Offers – Demand Malware Scanning and Cleaning.
Router Checker: Checks if your router and internet connection are hacked or not.
How To Get Support For F-Secure Antivirus?
You can visit F-Secure customer support if any issue occurs with your software. Here you will find options to get in touch with Antivirus support in two ways- If you want help regarding your software you can chat with our experts, they will definitely assist you in anyhow.
We will fix your issues remotely and are available 24×7 on-demand service. Please Live Chat or Call our Local Geeks Help Number +1-256-286-0048
FAQs
1. Is F-Secure Antivirus Safe To Use?
F-Secure antivirus software is safe. F-Secure adds parental controls, browser, e-commerce, and banking protection in both total and SAFE packages, with the top total package including VPN, password manager, anti-tracking, and identity theft. It also includes identity theft monitoring.
2. How Can I Renew The F-Secure Anti-virus?
If your subscription is about to expire and you have received a notification to renew your F-Secure SAFE subscription, do the following:
Log in to My F-Secure with your account username and password.
Select Renew now, and select continue to checkout.
The Renew your subscription page opens.
Review your purchase, and select Buy now. Your subscription is renewed based on your original subscription.
Select Back to My F-Secure to go back to your account.
4. Do I need Windows Defender If I have F-Secure?
Yes, Windows Defender is needed to be disabled when using F-Secure.
5. Is F-Secure A Good Antivirus?
F-Secure offers browsing and safe banking protection, parental controls, and unique Finder Android/iPhone smartphone location features for its mid-level SAFE plan. F-secure detected 91% of the samples, scoring 9.0 out of 10. All its features make it a good antivirus.