In this Blog we will learn about Common Printer issues and their solutions. For those situations when you want to print faster than ever but today your printer won't even notice your existence. There are a few other complications to it too such as bad print quality, unable to print. these are Common Printer issues.
There are few Common Printer issues:-
1) Expensive Printing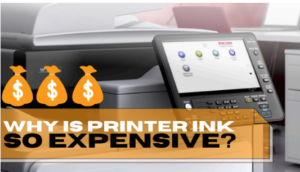 Just when you think printing is costing you more than earlier just try some of these basic & easy to follow habits help save you a dime.
Try to get same ink cartridges or as closer to the specified number or type mentioned by the manufacturer from a genuine or reputable seller
Check and print only the required amount/pages of documents.
Try Duplex printing as an alternative
You can also avoid clogged print nozzles by sticking with genuine ink cartridges, which has better ink/toner powder quality.
Switch to paperless electronic content management (ECM) that enables you cloud store and route all documents without a mess with ease.
2) Slow at Printing (inkjet printers)
 Printing has become a much  faster process with laser printing technologies.
Still, let us keep in mind, print speed and print quality unfortunately work atonymsly.
if your print settings are modified to high, the print speed is going to be slow. By keeping printer, settings to the minimal print speeds can be optimized for faster printouts.
3) Paper Jams 
Use good quality sheets and fan them around once to loose static and dust before inserting into paper tray, now install the paper correctly flushed with guide.
Do not over stack paper tray. Check for loose objects in the printer. A blockage in the sheet's path or a roller damage are also identified as main culprits of paper jam.
4) Problems via mobile printing
 At times when your printer does not connect to your mobile or the printing speed is too slow while printing from your phone.
Check and try for better connectivity of your wi-fi router with phone and printer
 if it is optimal, or get closer to the router by any means necessary. Basic methods to print via mobile device include Apple Airprint, Print Now, "Runisoft" for blackberry phones.
And many third party apps for example Epson iPrint, Samsung mobile print, Print Jinni, HP All-in-one Printer Remote etc.
If you need any further help contact us for Geeks Support Chat with our Live Technician.
Related Articles:-