Now a day's it is really difficult to imagine life without computers. They play a vital role in one's life. If you regularly use a computer in your everyday processes. You will eventually run into Common Computer Problems that need your attention. It may get really frustrating sometimes. You may have a software relate problem with is common and sometimes it's related to hardware.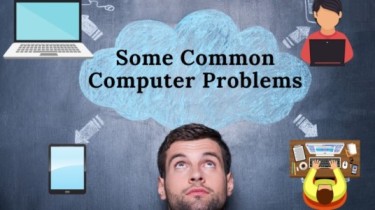 Some of the Most Common Computer problems are listed as:
Slow Computer Performance, There could be different reasons for your computer to perform slow. But under normal circumstances it is due to low disk space, unwanted startups, malware or a fragmented hard drive. These problems can be taken care of by using some cleaning tools. Your computer can get slow if your "C:\" drive is low on space. Very rare cases it could be a bad CPU cooler that might need your attention and is a cause of overheating.
Computer won't turn on: It could be a faulty power supply if your computer is not able to boot up at all. Maker sure if your device is getting proper electricity. If your computer suddenly shuts off there is more possibility for a hardware issue.
If the computer crashes before loading the operating system and windows won't boot. but you see the power light indicator on your monitor, keyboard, CPU, mouse and clear the P.O.S.T. (Power On Self Test). It is mostly the software part that would need your attention, could be the Operating System or some driver responsible where you can try safe mode and clean boot.
Computer's screen is Frozen: If you are in middle of something important like a game, work, video session etc. It can really be frustrating and get under your skin to have your screen lock up. It could be a faulty hardware or software and most of the times you have no other choice but to manually reboot computer by pushing the power button or by killing the responsible application using Windows task manager.
Application won't install: If an application on your computer does not gets installed maker sure to do check few things: 
Here what you should do – Common Computer Problems
First thing that you can try is to reboot your computer, make sure to check if you have enough drive space or a newer version already installed, or if you did not install prerequisite software like vc_redist.x64, MS .Net, or DirectX). Sometimes it could be non-compatible software. So check the system requirements, before you try installing. Sometimes a non-compatible operating system could also be the reason. Where you might need to check for system requirements for software that you are trying to install.
Missing DLL files: This is an error which you would see if the software/program installation is incomplete or corrupt. You might need to reinstall the software or you can try to find the missing DLL file and place it in system32 and or SysWOW6432 folder. You might need to register DLL files in some cases using CMD. Example: regsvr32 "name of DLL".
BSOD (Blue Screen Of Death): Typically caused by driver/hardware conflict. You should take a look at the dump file to figure out what exactly caused the error, an error code might help you find out the problem as you have many places that offer a list of these error codes for you to look up. Alternatively update hardware drivers or check for any new hardware/software installed in the computer. You can try running a Hardware Diagnostic too.
Few More Common Computer problems
Strange Noises: 
Slow Internet
Overheating
Dropped Internet Connections
Internet or network connectivity issues
Peripherals not working/not working properly
The blue screen of death
Applications running slowly
Hard Drive Failure
Malware
We provide Support for Common Computer Problems. If you looking for support you can visit our website Local geeks help or you can Call our Geeks Tech Support Number  +1-256-286-0048 or you can Chat with our Live Technician.