How do I Cast to Roku TV from Android? In the era of smart technology, the ability to seamlessly connect and share content across devices has become an integral part of our daily lives. Roku TV, known for its user-friendly interface and extensive content options, offers a convenient casting feature that allows users to share their favorite videos, photos, and more directly from their Android devices. Whether you're looking to enjoy a slideshow of vacation pictures or stream your favorite movie on the big screen, cast to Roku tv from android device is a straightforward process.
In this blog, we'll show you How do I Cast to Roku TV from Android? using an app that has its own casting capabilities, or mirror your phone's screen instead. Below are all the details. You can use the same steps for your Roku TV or TV with Roku built in. All you need to do is follow the given steps to get the results you want.
What you should know?
You need to connect your phone and Roku TV/Roku device to the same Wi-Fi network.
Next, open the app that you would like to cast from on your phone then select the cast icon possible.
In case the app doesn't support casting then you can use the 'Screen Mirror' to share your entire phone screen.
How to Cast My Phone to the Roku TV?
You should know that most streaming applications have a built-in cast feature. This even includes Amazon Prime Video, Netflix and YouTube. Here we have provided you with the steps for the Netflix Android application; however, the process is usually the same for other streaming apps as well (the interface could be a little different though).
You need to first make sure that your Android phone and Roku TV or Roku device are on the same Wi-Fi network.
And then you should open the streaming app that you want to cast from on your Android phone.
Next, you will need to select the cast icon that is in the corner of the screen; looking like a rounded corner rectangle with three curved lines right in the bottom left-hand corner just like the Wi-Fi symbol.
IMPORTANT: This example uses Netflix. So I made sure that Netflix was installed on both my Android device and the Roku I was streaming to. We have also already signed into our Netflix account on both devices.
When prompted, you'll need to select your Roku TV or device to start casting. After which the streaming service app will open on your Roku device to the content that you would like to cast. You can then continue using your Android device as a remote control for selecting and adjusting the content on your TV.
How to Mirror Your Screen to a Roku TV?
If the Android application you're using doesn't support casting, or you just want to display your phone's screen on your TV, you can mirror your screen instead. However, this procedure is called by a different name. The most common is the screen mirror, also known as screen cast, quick connect, smart view, screen cast, cast, or wireless display.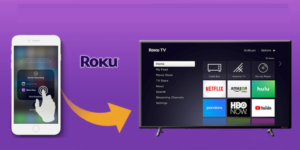 You'll need to make sure your Android smartphone and Roku TV or Roku device are set up on the same Wi-Fi network.
After that, you should pull down the quick settings menu from the top of the screen.
Next, you would need to scroll through the options and select the 'Screen Mirror/Screen Cast' option or the alternative name for it.
When prompted, you'll need to select the Roku TV or device you want to mirror to.
You should see a loading screen on your Roku TV before mirroring your Android phone's screen. Once connected, you will see a "Connected" message on your device screen.
Once you've completed the steps above, you'll be happy to use your Roku TV again. If you require additional guidance or support, please do not hesitate to contact our team of highly qualified and experienced technicians at +1-888-256-6612.
Related Article: How do I turn On the Roku TV without a Remote?